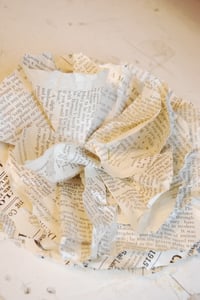 $

8.00
springtime is here.
springtime means flowers are blooming.
these sweet flowers are layers of vintage book pages. simply constructed to look like a flower. the construction of the twisted and turning papers create precious petals. these flowers are handmade and each unique. no two flowers are alike... but they do all have the same whimsical characteristics.
each flower measuring approximately 7 1/2 inches.
the single vintage petals can be attached to any surface you would like. each single flower comes with a flat silver push pin. you can use the push pin in the center of the flower, or hid it in the petals. attach with flat push pins, double sided tape, or drafting tape. your choice... but the flower simply comes with one push pin.
if you want more than just a few, and would like to have a lot made, message me and we can work something out.